About the region
Northern Sweden is, with exceptional surroundings and strong entrepreneurship, driving the change towards sustainable growth. There is a distinct awareness in northern Sweden of sustainable development, which is displayed through our strengths bio-economy, clean energy and smart sustainable cities. 
Sweden has over 87 billion trees and 70 % of northern Sweden are covered in forest. Bio-economy is one of our many strengths: the knowledge of the process, from planting the seed to refining the whole tree including the residual streams. One example of best practice from our region is RISE Processum in Örnsköldsvik, a biorefinery research and development organisation in close collaboration with the industry. Their work includes developing new products, processes and energy solutions from raw material and residual streams from the process industry.
Clean energy
 Clean energy is focusing on ensuring access to affordable, reliable, sustainable and modern energy for all. Wind power technologies, waste to energy and fuels of the future are developed here. Black pellets and biofuel, among other products, are developed and produced in the region. Companies within the clean energy field are EnviBAT, high-performance cutting-edge technology in the exhaust gas cleaning, heat recovery and water treatment industries; Eco-Oil, which develops green petrol for combustion engines; and Envigas, producing bio-coal for increased yields in agriculture and decontamination of land.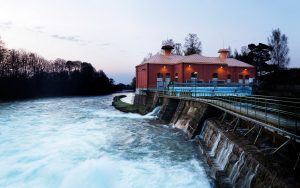 Smart & sustainable cities
Smart sustainable cities, built from clean energy, green technology and sustainable solutions, are another strength of Smart City Sweden North. A smart city is a city where technology, markets and consu­mers work together to create sustainable technologies and solutions through climate-smart business models. The northern region has four universities and strong collaborations between business and academia. Some companies within the field are Green Zone, showing it is finan­cially viable to transform from linear to circular thinking, and Hybricon, an ultrafast way of charging electrical buses. Sustainable Ålidhem is a unique project for sustainable urban development which includes social, technical, environmental and financial aspects located in Umeå.
 Smart City Sweden North offers technical and business visits in northern Sweden for groups of investors, compa­nies, entrepreneurs, researchers, government officials and organisations. We will tailor all visits to suit the requirements of the visitor. Welcome!