The Gothenburg region has one of the world's most advanced district heating systems and many companies in the region offer innovative solutions for smarter heating. Borås-based Wideco Sweden is one of these companies and we have been following their journey to market in China, which has now resulted in a three-year agreement with a Chinese distributor in the city of Tangshan outside Beijing.
Green Gothenburg welcomes delegations from cities and regions seeking inspiration in green system solutions and just over two years have now passed since Wideco was invited to present their solutions to China's National Energy Commission. This was followed by an invitation to accompany a delegation headed by Sweden's Minister for Energy to Beijing, and it was on this occasion that the first business contact was established.
"It's incredibly interesting to follow the region's companies as they establish themselves in new markets," says Sofia Mc Conell, Head of Green Gothenburg. "But you have to be prepared for long lead times and set aside the right resources."
Success factors
Robert Andersson, sales manager at Wideco, sees several factors behind successfully establishing business in China.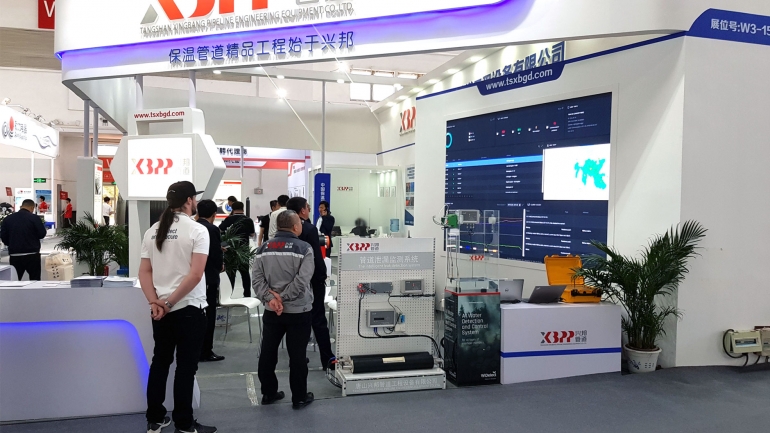 AT THE ISH TRADE FAIR IN CHINA, WIDECO EXHIBITED TOGETHER WITH ITS PARTNER XINGBANG
"Having the opportunity, through Green Gothenburg, to join the Swedish delegation that travelled together with the minister for energy to Beijing opened doors that would have been difficult for us to open ourselves," says Robert. He continues:
"After our successful visit to China, we approached Business Sweden in Beijing to help us to understand the opportunities and potential in China. In addition to a thorough presentation of these opportunities, having someone who speaks the language join you in all your meetings with potential business partners was invaluable. Following this, choosing a business partner to invest in, adapting our offering and business approach to the market and culture, getting a long-term and favourable agreement in place, having a large market presence and prioritising building a close relationship with our partner Xingbang were other important aspects of our successful expansion into China."
"The agreement is fantastic in several ways other than the obvious, that we're able to invest more in our systems for wirelessly monitoring various sensors and applications. This deal enables us to grow strongly internationally and recruit more knowledgeable members to our team – and we're also helping to open a new market for Borås."
KARL-JOHAN WIRFALK, CEO, WIDECO
Aim to reduce accidents
By quickly detecting leaks in district heating pipelines and chambers, China's accident statistics will improve and the three-year agreement is expected to be the start of even closer collaborations in the future.
"Unfortunately, there are currently many accidents in China linked to their district heating systems. We're coming into the picture to enhance quality and safety with good prospects of improving those statistics with our unique system: Finding leaks before they pose a potential danger," says Karl-Johan Wirfalk, Wideco.
Increased visitor numbers from China
Green Gothenburg has noticed increased interest in heating and district heating from China. For example, earlier this year the region was visited by a group from Inner Mongolia in northern China, where district heating is currently undergoing expansion.
"District heating has made a big difference to air quality here in Gothenburg and we hope that showcasing the city's solutions to the rest of the world will lead to both cleaner air in other cities and business for companies in our region," says Sofia.
Green Gothenburg, which is run by Business Region Göteborg on behalf of the City of Gothenburg, welcomes delegations from cities and regions seeking inspiration in green system solutions. For more details, please visit greengothenburg.se
Wideco offers one of the market's most effective moisture monitoring and sealing concepts to companies working in district heating, district cooling and industry. They target companies wanting to improve their operational reliability by detecting and repairing leaks in pipeline systems in good time. For more details, please visit wideco.se
---