Representatives from the City of Windhoek, Namibia, visited Stockholm in June to further deepen the collaboration and knowledge in waste management with Sweden. The delegation met with companies, investors and experts and went on study visits around Stockholm to explore the Swedish waste management system.
Smart City Sweden is currently conducting a pre-feasibility study together with the City of Windhoek to investigate the possibilities for a waste-to-energy plant in the capital of Namibia. Currently, the city is putting most of the waste in the landfill, which is reaching its expiration date. The landfill sits close to the city's water reserve, which is crucial in the country, that has been greatly affected by drought in the last few years.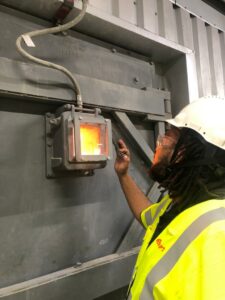 Today, less than 1 % of the waste in Sweden goes to landfill. What cannot be prevented or recycled is incinerated in waste-to-energy facilities, where water for district heating, as well as electricity, is generated. After a visit to Windhoek in March, it was concluded that there is potential for an incineration plant in Windhoek, where electricity and heat or cooling are generated, providing the city with local energy generation. Read more about the visit to Namibia here. 
The delegation consisted of representatives from the city's waste department, electricity department and environmental and health department. During the visit, the group met with several Swedish companies, listened to experts in waste and water issues and went on study visits around Stockholm. The visits on waste included a visit to an old landfill, a recycling centre and an incineration plant.
The delegation also looked into future possibilities for waste management in Windhoek, such as biogas at Scandinavian biogas, connected recycling at Ericsson, as well as wastewater solutions at the Sjöstadsverket Water Innovation Centre.
The next step in the project is to conduct a full feasibility study for the project, which will look more closely into the possibilities of constructing a Waste-to-Energy plant in Windhoek.
---