From a small show house in Stockholm to projects around the world – Smart City Sweden has been working for the past 6 years to create collaboration and business opportunities between Sweden and other countries.
The origins of Smart City Sweden date back to before its official start in 2017, but it was after this that development really took off. The new and modern suburb of Hammarby Sjöstad in Stockholm was completed in the early 2000s, with the intention that it would act as a shop window for environmentally designed urban development.
Östen Ekengren – civil engineer and business developer at Smart City Sweden – has been part of the platform since the start. His passion for the environment and international contacts are an excellent foundation for his work.
Initially, visiting delegations were welcomed to a glass building, but activities did not lead to a great deal of business, says Östen Ekengren who is head of Business Development at Smart City Sweden.
– One exception was an automated waste collection system that used a vacuum. This was sold to many countries, but more solutions should be exportable.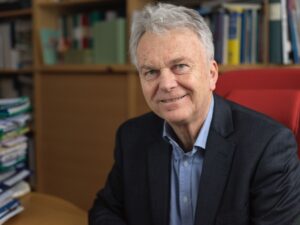 Investigation showed that a platform was necessary, one that showed what all of Sweden has to offer in the form of innovative solutions for sustainable cities. The foundation remained Hammarby Sjöstad, but other examples were necessary, as was doing more than giving a demonstration and exchanging business cards. The Ministry of Enterprise and Innovation asked IVL Swedish Environmental Research Institute – where Östen Ekengren has worked since 1978 – if it was interested. The institute was accustomed to running international work, having had a presence in China since 1986 and an EU office three years prior to Sweden even becoming a member. For Östen Ekengren, the motivating factor was making a difference in the environment at a global level.
– We can cut the 50 million tons of carbon dioxide that we emit in Sweden to zero, as we have the resources. But if we are to succeed globally, we must have a greater influence.
Ekengren takes potable water as an example. Two billion people currently have no access to potable water. Another example is fossil-free steel, where Sweden is in the starting blocks for establishing exports.
– These are the types of solutions we need to get out into the world, as well as working methods, citizen dialogues when designing urban areas, and solutions where different public authorities work together.
The basic principle is that a product, service or working method that is functional in Sweden will be exported. Smart City Sweden wants to be a bridge to the rest of the world. In 2017–18, Smart City Sweden opened its premises in Hammarby Kaj. Soon thereafter, the Ministry asked eight relevant public authorities to join in and contribute.
– We thought this was excellent, because new solutions are either driven by innovation or strict requirements from public authorities, says Ekengren.
Then, six regional nodes with better knowledge of regional cases and companies joined the platform. Ekengren says it has been important to have local representation that is tied together nationally.
– After some time, the pre-pilot studies we started up within Smart City Sweden were used at all our offices around Sweden. For example, Dalarna has begun an exciting project in Somaliland, involving solar cells and tree planting.
It is this 'business' that is the heart of Smart City Sweden. From the very start, many international delegations wanted to come to Sweden. Some were perhaps more tourists than seriously interested in business, so Smart City Sweden soon began screening the visitors with the help of embassies and Business Sweden.
Another important element in boosting business creation is pre-pilot studies. Starting in 2020, Smart City Sweden has been able to reserve part of its budget for these. Their foundation is the business development group that Smart City Sweden had already created with major companies – AFRY, Sweco, WSP, Scania, ABB and RISE Research Institutes of Sweden, with the aim of having somewhat more objective opinions of the business projects.
Sometimes these companies have invested their own money, but Smart City Sweden previously had no capital of its own. The studies are small, about SEK 300,000–500,000, but the opportunity to run them has filled a gap in making it possible to get rapid funding for studies. Since 2020, over 20 pre-pilot studies have been conducted in South America, Africa, Europe and Asia.
– We have learned that if the customer is part of paying for a project, even if only a small amount initially, it's a sign that they have a greater interest in it.
Ekengren provides an example where a delegation from El Salvador wanted a refuse solution for San Salvador. They were interested in both biogas and waste to energy. El Salvador put in SEK 350,000 and Smart City Sweden the same.
– It's then quicker to move from the project to business, he says.
The pre-pilot studies have a wide range: transport solutions, waste, water, renewable energy, and smart grids. There are projects in South America, in Asia and in Africa. One interesting project, says Ekengren, is a smart grid solution in Ethiopia, even if the situation there is currently unstable.
Sometimes the first meeting results in something else entirely, such as when Bolivia wanted help with lithium mining – which led to investments in water purification. In the end, Sweco was tasked with designing the first water treatment plant in La Paz.
– Presenting more than they ask for is a good thing, like a smorgasbord. Someone might think of something new they need help with.
Ekengren says that some visitors are more memorable than others. A few years ago, a governor from Harbin, China, wanted a demonstration.
– He was a bright man and asked a lot of great questions. Then he said that if we came to his province, Heilongjiang, we'd meet all the mayors.
A delegation travelled from Sweden, with five or six companies, and the governor, who's called Lu Hao, really had made sure he brought all the mayors together. Ekengren says that Smart City Sweden is still following up on good leads that resulted from the trip.
– And best of all was that one year later, I saw that he'd become China's new minister for natural resources! Everything changes quickly in China, people move upwards and downwards, but right now we can access a higher level.
---