After a recent visit to El Salvador Smart City Sweden sees possible solutions for the country to solve some of the most urgent problems affecting waste handling, mobility and lack of water.
Smart City Sweden's Östen Ekengren has participated in several visits to El Salvador, including digital follow-ups, and has presented a pre-study on waste management in the San Salvador region. The study concludes that there are good opportunities for improving the region's systems to impact climate issues significantly.
A recent offer from Smart City Sweden is to make a feasibility study, together with other Swedish stakeholders, on how to apply solutions developed in Sweden to establish a Waste to Energy (WtE) plant to improve waste treatment and energy supply in the area. A goal is that such a plant should meet the emission requirement stated in the EU.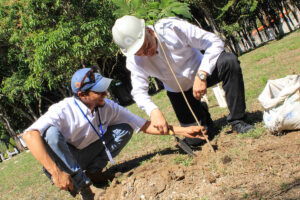 Challenges ahead
Other aspects include water supply and sewage. On these questions, Smart City Sweden collaborates with ANDA, the National Administration of Aqueducts and Sewers (in Spanish: Administración Nacional de Acueductos y Alcantarillados). You can read more on ANDA's website.
However, while regional municipalities in the San Salvador region have big problems, their budget resources are usually small.
An initial challenge will be to identify the best location for such a plant considering not only the distances to the generators of waste, to the off-takers, for example, industries that could utilise steam and hot water in their processes and the possibility of building a connection point to the national electricity grid.
Localisation is important
– The influence of waste transport to the WtE-plant is also to be considered. Good roads are essential as a factor for localisation, says Östen Ekengren.
Östen Ekengren visited El Salvador as a representative for Smart City Sweden and IVL, the Swedish Environmental Research Institute. The trip included visits to water plants and meetings with representatives from six municipalities working together in and around San Salvador.
Apart from collaboration with ANDA and meetings with municipalities, the delegation from Smart City Sweden also met with the Ministry of Territorial development, the Ministry of Foreign Affairs of El Salvador General Directorate of Economic Relations, the Cooperation Office and Environment Unit.
A competition for ideas
Among the ideas developed during the visit is to start a competition where young people in municipalities in the area can propose solutions for good water management.
Read more on Smart City Sweden's collaboration with El Salvador here.
---