Last week, Smart City Sweden hosted the webinar "How do we create safe and sustainable roads?". At the webinar, experts on road safety and planning discussed what Sweden is doing to create safe and sustainable roads and two companies presented their solutions.
Sara Palo from the Swedish Agency for Economic and Regional Growth was the first speaker and presented URBACT, a European programme that helps cities to develop new and sustainable solutions that integrate economic, social and environmental urban topics. Ms Palo highlighted that the programme is a good way for cities to gain knowledge and be a part of a network.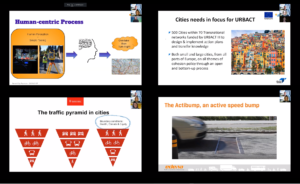 Maria Krafft from the Swedish Transport Administration talked about how roads can be planned to minimise accidents and increase sustainability. She mentioned that human error always will occur, but that it is up to the planners to design roads where people can survive even when accidents happen and that more focus needs to be on the unprotected road users in the planning process.
Next up was Karin Wiklund from Edeva, a company that provides speed bumps that are only activated if the driver is speeding. The Edeva speed bumps are smart, meaning that the user can get important data of the speed, but also the vehicles used, noise and air pollution. Ms Wiklund mentioned that the company works internationally and has installed its speed bumps in Australia.
Samuel Scheidegger, Co-founder and CEO, Asymptotic AI concluded the webinar and talked about how AI and big data can help create safer roads. The company is working with research projects to make AI more accessible for road safety stakeholders and researchers.
Did you miss the webinar or want to see it again? Go to our webinar page.
---