Swedish expertise is supporting Ethiopia and Uganda in developing and optimising the operation of waste-to-energy plants. This week, delegations from the two countries visited Smart City Sweden and several waste treatment plants in Sweden to enhance knowledge and capacity in the sector. 
Reppie waste-to-energy plant, located in Addis Ababa, is Africa's first waste-to-energy plant of its kind, with a capacity to generate energy from about 400,000 tons of waste per year. The aim of the investment was to decrease landfilling of waste, free up land, counteract soil poisoning, reduce greenhouse gas emissions from the landfill, especially methane, and generate electricity. The plant however has been facing several operational issues in recent years, with one of the major reasons being the lack of local capacity for expertise in the operation and maintenance of a waste-to-energy plant. The lack of experience and knowledge around proper operations, maintenance and repair has resulted in falling capacity, electricity production and reincurring production stoppages.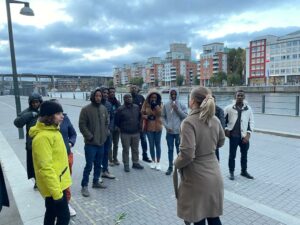 10 representatives (managers, engineers and technicians) from the Reppie waste-to-energy plant are visiting Swedish waste treatment plants this week to gather experiences. This visit is a part of the capacity development program being financed by the Swedish International Development Cooperation Agency  (SIDA) and the International Council of Swedish Industry (NIR), and being delivered by Hifab International AB. The purpose of this visit is for EEP to obtain a practical experience of best available technology and develop a vision for their Reppie plant. 
The representatives from Reppie plant visited Smart City Sweden to get a broader understanding of the waste collection system and regulations in Sweden, and also to get a perspective of how a proper waste management system contributes towards the development of sustainable cities. The visit to Smart City Sweden's headquarters in Hammarby Sjöstad was followed by a guided tour to Envac's waste management system in the area.  
– It is important for them to understand the whole value chain of waste, from sorting and collection to treatment. And at Smart City Sweden we are happy to be able to show them how this works in one of our most sustainable areas of Stockholm, says Gina Aspelin Hedbring, Project Manager for Smart City Sweden.  
The other delegation visit this week from Uganda is a follow-up to the pre-feasibility study that was carried out by Swedish experts in the beginning of this year for the development of a waste-to-energy plant in Kampala. Read more about the pre-feasibility study in Kampala here.
---