Vision Zero started in Sweden in 1997 with the goal that no one should be killed or seriously injured in a road accident. Last week, 250 traffic safety experts from all over the world met in Stockholm for the Vision Zero Conference to exchange knowledge and discuss the way forward.
A key success factor for Vision Zero is its wide-ranging collaboration, involving different stakeholders, from authorities like the Swedish Transport Administration to car manufacturers and tech companies.
In 2019, the Vision Zero Academy was established by the Swedish Transport Administration. Vision Zero Academy is a global knowledge hub with the overall purpose of spreading knowledge about Vision Zero and supporting and collaborating with different stakeholders worldwide in their strive for safe road transport systems.
The Vision Zero Conference was organised by the Government Offices of Sweden, the Swedish Transport Administration and the Swedish innovation agency Vinnova. During the two days, topics such as the 2030 Agenda as an enabler for road safety, private sector role and engagement and capacity building were discussed.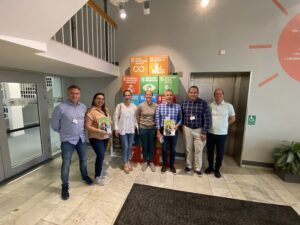 During the days, Smart City Sweden welcomed representatives from the Colombian Ministry of Transport, the Colombian Congress, and Transport entrepreneurs. The delegation showed interest in Waste-to-Energy production, focusing on biogas and its use in public transport in Stockholm. The delegation came to Sweden as part of the study visit on sustainable transport and Road safety organized by Business Sweden in Colombia.
Watch videos from the conference.
Read more about the Vision Zero Academy.
---