Professionals and experts on water issues are meeting in Stockholm this week for World Water Week. During the week, Smart City Sweden welcomed delegations interested in diving into the topic of water.
Access to clean water is a fundamental issue that affects countries and cities worldwide and is expected to worsen as the effects of the change in climate increase. These issues need to be met by introducing more efficient and innovative solutions, where all resources are used in the best way possible.
On Thursday, a delegation from Metropolitan Waterworks Authority, A state-owned enterprise responsible for wastewater treatment in key municipal areas in Bangkok, Thailand, visited Smart City Sweden to discuss issues such as production stability, loss reduction and smart metering.
After the presentation at Smart City Sweden, the delegation was taken to Sjöstadsverket Water Innovation Centre (SWIC), a research facility where new technologies for climate-efficient and sustainable technologies and processes for water purification and reuse, sludge treatment, and the extraction of bioenergy and bio-based products are tested, developed, and produced. The centre is jointly run by IVL Swedish Environmental Institute and KTH Royal Institute of Technology.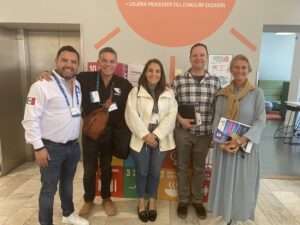 During the week, two delegations from Mexico were also welcomed to Smart City Sweden. Representatives from ANEAS, the National Association of Water and Sanitation of Mexico, met with Smart City Sweden and IVL Swedish Environmental Research Institute to discuss topics such as using MBR to treat municipal wastewater and the future WWT plant as a production facility.
Do you want to learn more about solutions related to wastewater, climate adaptation and stormwater management? Explore sustainable water management solutions here.
---