On world cities day, we are looking into the most sought out topic and challenge that our visitors experience in their cities.
How to handle a city's waste is a relevant topic for most, if not all, cities in the world. Since the start of Smart City Sweden, waste management and creating a circular economy have been the most popular topics among our visitors. Below we list some of the opportunities that can come out of waste.
Refuse
The first step to tackling waste is to make sure that it never occurs. Make sure to think before buying new things. An important task for cities is to identify obstacles and opportunities for more sustainable consumption and to correlate behaviour with waste management planning.​
In the EU, a proposal for a new Ecodesign for Sustainable Products Regulation (ESPR) aims to create environmentally sustainable and circular products, which could reduce the amount of products being made by making the products last longer.
Reuse & repurpose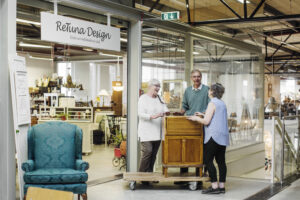 Finding new purposes for old things by repairing or upcycling is a way to reduce waste and decrease the amount of new materials and products produced. The world's first recycling mall in Eskilstuna, Sweden, only sells items that have been used before. The key to the success is the mall's location next to the city's recycling centre. The items left at the recycling centre are sorted and repaired, converted or refined, to later be sold in the mall. Read more about ReTuna.
Recycle
Citizens play a crucial part when it comes to recycling since much of the sorting happens at home. By making it easy for citizens to sort and recycle, more materials can be reused, instead of being put on a landfill or burnt. Some of the waste can be recycled into new materials, such as glass bottles and metal cans. In Sweden, the deposit system for bottles and cans is estimated to save about 180,000 tonnes of CO2 emissions yearly. Education and marketing efforts are constantly made to engage citizens in sorting and recycling.
The Extended Producer Responsibility (EPR) is a governmental policy and a Swedish law that aims to better waste management and collection. The Swedish system shifts the waste management cost or physical collection fully from local governments to producers. The policy applies to different goods such as packaging, electronic products, batteries, tires, end-of-life vehicles and pharmaceutical waste. Read more about EPR.
But there are also other forms of waste than solid waste that can be recycled. With the water crisis being a serious issue in many countries around the world, Sweden is working towards efficient management of wastewater streams.​ In 2019, a beer was made from recycled water to show the possibility of cleaning the water to the point where it is drinkable. The beer was quickly sold out.
Recover
From the sludge that is created from cleaning water, it is possible to produce energy and fuels. At the Sjöstadsverket Water Innovation Centre, testing of new technologies and innovative solutions for water treatment and environmental engineering is being conducted. The facility enables small and innovative companies to test their solutions. Learn more about the possibilities of wastewater in our digital wastewater treatment tour.
The processing of waste can also be generated into energy. Waste Incineration refers to the burning of waste in a controlled environment to produce energy in the form of electricity and heat or cooling. Almost 50 % of the household waste in Sweden is recovered as energy. ​Another Waste-to-Energy technology is biogas, where organic waste, such as sludge from water treatment or food waste from households or slaughterhouses is used to generate electricity, for heating, or as vehicle fuel. Interested in learning more about biogas? Contact us for a virtual tour or welcome to our offices!
Another way of recovering energy is through district heating. By converting waste heat from industries, data centres, the underground or housing, used energy can be reprocessed and reused to satisfy the local heat and cooling demand in a city. District heating usually has a lower price than oil and electricity and the plants usually use renewable fuels, which means lower emissions that using fossil sources. In Sweden, over half of all commercial and residential buildings use district heating.
Interesting about learning more about these topics or are you looking for other solutions to your city's challenges? Book a visit to Smart City Sweden!
---