A delegation from the Innovation and Digital Development Agency of Azerbaijan and the Embassy of Azerbaijan in Sweden visited Smart City Sweden last week. The group, interested in smart cities and innovation, visited networking and telecommunications company Ericsson, Kista Science City, the Swedish Internet Foundation, and more.
The delegation, consisting of Mr Rashad Khaligov, Deputy Chairman; Mr Imran Mammadov, Head of Department; and Mr Javanshir Mammadov, Minister-Counsellor of the Embassy of Azerbaijan in Sweden, visited Smart City Sweden for two days.
On the first day, the delegation started by visiting Kista Science City, the leading ICT cluster in Europe. The cluster is home to ICT companies like Ericsson, IBM and Intel, and is also an arena and testbed for future technology. The delegation also learned about the Triple Helix Model that the Kista Science City is built, where businesses, the public sector and academia collaborate.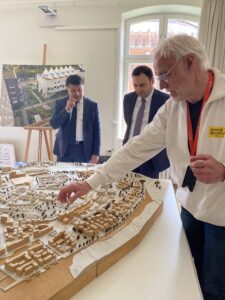 After Kista, the delegation visited The Royal Seaport; one of the most sustainable districts in Sweden. Later in the day, the group participated in a workshop on Eco Governance together with Mr Jonas Törnblom, Founder of the Stockholm Center of Governance. The goal of the workshop was to provide an understanding of the challenges of leading complex innovation projects with multiple stakeholders with different interests.
On the second day, the delegation visited Ericsson and discussed topics such as smart solutions, 5G and mission-critical networks. They also met with the transport administration to learn how public transport is organized and coordinated within Stockholm County. The day ended with a visit to the Swedish Internet Foundation, where topics on digitalization were the focal point of discussion.
– It was a pleasure meeting the delegation from Azerbaijan to demonstrate and discuss Swedish solutions, trends and innovations within the Smart City concept. We hope that the collaboration can inspire these dynamic places that Azerbaijan and Baku are, says Lidia Partheni, Visit Programme Manager at Smart City Sweden.
---