Modern industrial wood construction is climate-friendly, resource-efficient, and meets tomorrow's requirements for sustainable development. Thanks to industrial wood construction it is not only possible to build climate-friendly, but also to build faster, with better quality and in a more cost-efficient way than ever.
Timber is both a renewable and recyclable resource. With well-managed forests, wood is an endless resource. In Sweden, the growth of the wood supply is greater than the harvest and has been so throughout the 20th century.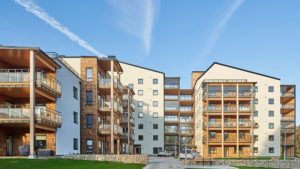 The construction process accounts for at least 50 per cent of the carbon dioxide emissions during a building's lifetime. It is not enough to just look at how much energy a house consumes per square meter when it is completed. To reduce climate emissions, the impact of the construction process needs to be tackled as well.
Wooden buildings often represent exciting architecture and innovative thinking. With wood as the only material or in combination with other materials, there are unique conditions for achieving beautiful, exciting and harmonious buildings. Since wood is a lightweight material, it is also suitable for superstructure and complementary construction in narrow urban environments. On top of that, building with wood reduces noise thanks to its sound-absorbing qualities, which leads to a more pleasant atmosphere in our cities.
1990: Researchers from Austria develop a new building material called Cross-laminated timber (CLT). CLT is solid wood boards that are glued together with every other layer crossing each other for increased form stability. The result is a rigid construction element that is durable in relation to its low weight.
1994:  The building regulations in Sweden are changed to requirements based on function, which makes it possible to build taller buildings in wood. Before 1994, it was not possible to build higher than two-story houses in wood.
2000: Construction of wooden multi-story houses and commercial buildings is starting to increase.
2001: The first passive house, a building technology to decrease the energy consumption in houses, is built in Sweden.
2005: The government develops a national wooden building strategy, to promote the wood against other building materials. The strategy was implemented through several measures, including the development of new knowledge and experience accumulation, as well as the development of several different wood building systems.
2018: Alignment for wooden buildings is introduced. The Government announces a new approach to wooden buildings, to strengthen industrial wood construction, as it is an important part of the transition to a more sustainable construction process. New material combinations, building systems with hybrid solutions of several types of building materials, technology solutions, and production systems contribute to the long-term development of industrial wood construction.
2022: The Government intends to introduce requirements for upcoming climate declarations. Constructers now have to report on how the building affects the climate during construction.
The small red wooden cottage is as strong as a symbol for Sweden as a skyscraper is for the United States. Sweden has a long tradition in wooden construction and substantial knowledge that is shared through several information centres, open and free of charge to everyone. The information centres report facts about wood construction as well as detailed solutions for requirements in design. Detailed information on how to deal with the major challenges that exist regarding fire safety, moisture, indoor noise and load-bearing capacity is provided.
There are many inspiring new buildings, where participants are happy to talk about their challenges and success factors. There is also an opportunity to visit factories and see how various building elements in the wood are manufactured. Factories produce prefabricated building elements in glulam, timber, CLT, and stud frames. Sweden also has a new surface treatment system for coated cladding boards for external use that can deliver more reliable quality.
Export opportunities
The interest in modern wood construction is increasing, both nationally and internationally. Sweden offers a variety of different wooden building elements and the know-how in joining them together to construct houses that meet the demands of a modern living standard.
One of the most prominent Swedish cities when it comes to wooden construction is Växjö, which strives to have 50 % of the new buildings made from wood in 2020. The municipality of Växjö works together with society and the industry to reach this ambitious goal. Book a visit to Växjö here or visit Växjö virtually here. 
Other new city developments where wooden buildings are a common feature is Viva in Gothenburg, Vallastaden in Linköping, Royal Seaport in Stockholm and Skellefteå's culture centre: