This week, a delegation consisting of representatives from the cement, pulp & paper, and iron & steel industries visited Sweden. The goal was to identify potential areas of collaboration, share expertise and exchange knowledge. The visit included workshops with Swedish agencies, technical experts and study visits and meetings with Swedish companies and business representatives.  
India has ambitious goals when it comes to a green transition in areas such as energy, transport, water, and urban development. Indian companies operating across sectors such as cement, pulp & paper and iron & steel have announced their own carbon neutrality goals ahead of the national deadline.
Sweden has positioned itself as a frontrunner nation in promoting green transition. The country has launched a project to produce green steel and is steadily moving towards manufacturing green cement. It is also a global leader in sustainable practices related to paper production and forestry.
With this background, Smart City Sweden, in collaboration with Business Sweden, the Swedish Energy Agency, IVL Swedish Environmental Research Institute and CII Indian Green Business Council, welcomed an Indian delegation to Sweden for three days. The delegation visited three cities to learn from Swedish best practices and exchange experiences.
A fossil-free nation
On the first day, the delegation visited Smart City Sweden's office in Stockholm, where presentations were given on Sweden's work with innovation and sustainability within the industrial sector. Daniel Westlén, State Secretary at the Ministry for Climate and Enterprise, presented Sweden's work to become a fossil-free nation and the long tradition of cooperation between Sweden and India.
Cecilia Oskarsson, Trade and Invest Commissioner of Sweden to India, gave an overview of the latest developments within technology and sustainability, as well the priorities within the industries in the focus of the programme.
The Indian companies from the delegation also presented their current needs, demands and priorities within their industries.
Field trips to different parts of Sweden
The second day consisted of field trips to the cities of Falun for the pulp and paper industry, Luleå for the steel industry and Stockholm for the cement industry.
In Luleå, the delegation met with H2 Green Steel and Hybrit; two efforts to make the steel industry more sustainable by switching to hydrogen.
– The Swedish steel industry stands for about 10 % of Sweden's CO2 emissions and the ongoing development in Northern Sweden attracts people from all over the world. The first initiative, the HYBRIT plant, is already producing fossil-free steel on a smaller scale. In Boden, H2 Green Steel is building a large-scale green steel plant that will be ready in 2025. The visitors from India showed a great interest in learning more about the fossil-free development and were very satisfied visiting Luleå, says Nina Rismalm, Head of Smart City Sweden North and Business Developer at the City of Umeå.
The delegates from the pulp and paper industry travelled to the city of Falun, where they visited Arctic Paper, a papermaking company with an almost fossil-free production process, with energy supplied by a bio burner and supplementary green electricity. The Indian delegation also met with Ahlström, a world-leading producer in fibre-based materials, as well as academia with representation from Karlstad Universities research team Nexus which contributes to a circular forest-based bioeconomy by upgrading low-value side streams to raw materials, which are then used to produce useful materials and energy carriers.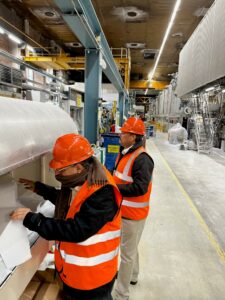 – Dalarna is leading the way in the pulp and paper industry. There is a long tradition of forest and energy now heading for new sustainable and innovative solutions, says Ann-Louise Larsson, Head of Smart City Sweden Central and Project Manager at Dalarna Science Park.
In Stockholm, the cement delegation received a presentation from Fossil Free Sweden on the ongoing work in the cement industry. They also met with Stockholm Exergi, which presented the work with Bio-Energy Carbon Capture and Storage, as well as Captimise AB, which has conducted carbon capture and storage projects in Europe and the United States for the past 15 years.
Collaboration and governance
During the final day, the delegation paid a visit to Epiroc's mine in Nacka in Stockholm, which is a test facility for Epiroc´s rock drilling and mining machines. The programme ended with a workshop on Eco Governance together with Swedish companies such as Comsys, Renetech and Salt-X technology, interested in cooperating in India's green transition. Eco governance is a Swedish method of governance to unite and steer complex processes with many stakeholders towards common environmental and societal goals.
As a result of the trip, collaboration opportunities to create more sustainable industries were identified in Sweden as well as in India.
– There is tremendous power in all industries' journey towards freedom from fossil fuels, and it was clear in the discussions that took place this week. Cooperating and helping each other and other industries to the finish line have characterized this week's intensive discussions, says Lidia Partheni, Visit and Programme Manager at Smart City Sweden.
---