To follow-up the results of pre-feasibility study for waste-to-energy in El Salvador, a high-level delegation of 15 participants from El Salvador visited Smart City Sweden in June.
The delegation was led by Special Envoy and Senior Advisor of the Presidency of El Salvador, Ibrajim Bukele. The purpose of this visit to Smart City Sweden was to discuss the next steps after the pre-feasibility study. Smart City Sweden together with Swedish Export Credit Corporation (SEK) organised a meeting to discuss how financial instruments from Sweden could support in the full-scale installation of the plant.
After a meeting with SEK in Stockholm, the delegation travelled to Linköping to visit the waste-to-energy plant. Johan Böök, Head of International Relations and Klas Gustafsson, Vice President at Tekniska Verken shared their experiences and gave suggestions on how El Salvador could successfully implement better waste management systems. Everything from sorting, deposit-refund systems, transportation, biogas production, district heating and cooling was discussed.
Valuable discussions
– Extremely valuable discussions with Tekniska Verken on what works and what doesn't. The biggest take-away for us is how innovative the system solutions of Waste-to-Energy are and we will continue with the next steps, the feasibility study in order to implement it in El Salvador and use the garbage as a resource, says Ibrajim Bukele, Senior Advisor of the Presidency of El Salvador.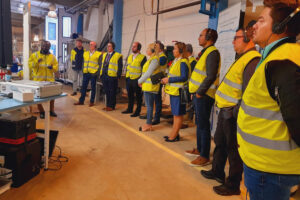 The Delegation also took this opportunity to explore other areas of collaboration. The next day, the delegation visited Hammarby Sjöstadsverket – a unique pilot and demonstration facility for innovations in wastewater treatment. A short walk around the facility was followed by a discussion on the experience in Sweden of developing new technologies, such as the membrane reactor. The cost-efficiency in relation to operational cost through optimisation, energy gains and application for reuse of water caught the interest of the delegates.
– One of the main aspects of Swedish eco-governance model is stakeholder involvement. It's a positive sign that this high-level delegation from my country included several ministers from the government of El Salvador and everyone participated in the discussions , says ambassador Patricia Godínez.
More information about the pre-feasibility study on waste-to-energy in El Salvador can be found  here: The government of El Salvador collaborates with Smart City Sweden to turn waste into value. 
---